shameover (n):

1. a feeling of regret and self-shaming that remains even after the cause of the event is forgotten by everyone but you
2. a feeling of regret and self-shaming that continues after a particularly shameful action
I am in the throes of #2 of a shameover from arguing on the Internet.  It isn't the argument itself I'm ashamed of, but the sheer waste of time it represents.  It's time I could be spending with my family, or time I could be practicing the piano, or time I could be doing my writing class homework.  It's time I could use to clear out my work inbox or finish up some Scouting responsibilities (as District Commissioner and acting GSM for one group, the Scouting never stops) or just return personal emails.  There's a dozen ways I could productively use time.  Arguing on the Internet is not one of them.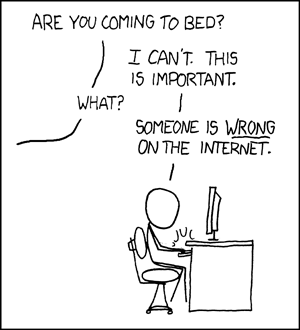 Therefore, after two hours of generally wasted time arguing over the child migrant separation crisis, I have a shameover.  And it feels awful.  I feel like I do when I over-indulge in other ways.  I feel like I do when I carb binge, when my blood sugar spikes and I know it will eventually crash as well.  I feel like I do when I watch waste of time TV.  I feel like I do when I spend too much money, on impulse, on an item I do not particularly need and cannot return.  I feel like I do when I drink two glasses of wine too fast and know it will mess up my sleep.  I feel like I did last week when I trolled Trump supporters on the street. I feel like have cost myself something I cannot get back: in this case, time, energy, and a whole lot of adrenaline.
I consider it a waste of time to argue online, because  no argument online can be won anymore.  No one's mind can be changed anymore.  No one wants to acknowledge logical points or even facts in an age when everything can be dismissed as "fake news".  There was once a day when people would engage in civil, well thought out discourse on bulletin boards; now we all wallow in fallacies of online arguing.  There is no winning an argument or changing anyone's mind online anymore; there is only being better at arguing and feeling better about being right.
The only saving grace of arguing online is that there are some cases where I learn something new.   Which I did, actually, tonight, from the original post that sparked the entire argument, which was moderately educational!   This Medium post similarly argues that arguing is a positive in that it helps one "bulletproof" one's arguments.  Unfortunately, it's almost always at a disproportionate amount of time and energy investment to argue for that knowledge.  Often, the knowledge I get from arguing online is information could have acquired elsewhere without paying such a high price in time, energy and effort, without arguing, without getting my blood pressure and my adrenaline up.  If I go poke around outside my own liberal bubble, I am pretty sure I can hear others' points of view without having to waste time being polite and logical to random people I don't even know who jump in the middle of an argument and decide to engage via deflecting and whataboutism.
TRUE.  Because one person's "FIRST HAND EXPERIENCE" is totally representative of thousands of other experiences and makes them an expert in the subject!
Why then, do I continue to waste time arguing online?  It inevitably results in me losing sleep, not over the argument itself, but over the guilt of the waste of time and energy from it (not to mention the adrenaline coursing through my veins from any argument).  I think it's because there are two factors of appeal to online arguing for me: the need to hold people accountable for the social injustices they are supporting or failing to fight, and the need to be right.  On the one hand, I have always wanted to crusade for justice and against what I see as wrong, so having the entire Internet in which to do so is great for arguing for what I see as morally correct.  On the other hand, I just really like being smarter than everyone else and I will totally admit that.
Arguing online may hold a thin veneer of justification in that it allows one to try to use rhetoric to convince someone to do good.  Perhaps one will have the opportunity to impart knowledge and understanding to someone else.  Perhaps one will learn some critical piece of information or insight into the logic of the argument.  Perhaps one will learn a new way of looking at something, a new perspective that helps one understand the initial discussion topic better.  In some cases, when people share their perspectives with me, I'm actually grateful for the insight and knowledge.
However, ultimately, the knowledge that one cannot win an argument on the Internet means that if one is arguing, one is very likely arguing wholly due to ego.  It then requires a degree of mindfulness to recognize one's ego as a primary motivator so one can pledge that one will not argue on the goddamn Internet and then have to write an entire blog post on why doing so is a bad idea before one can peacefully fall asleep.  Now, 900 words later, I feel like I've acquired some of that mindfulness – and I can go to bed.  Goodnight world!  Tomorrow is another day of being nicer on the Internet.